Disappointed Fans Accuse Amity Affliction Of Not Miming And Performing All Instruments 'Live'
Disgruntled fans took to social media last night to express outrage over the lack of backing tracks and live vocals during the performance of post-melodic-emo-metalcore band, Amity Affliction in Townsville.
The band have been playing sell out shows on their ongoing regional tour but many have lamented that the group appeared to have been performing all instruments and vocals live during the concert without the use of overdubs or even autotune.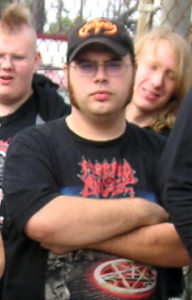 Dave "Wart" Warters spoke to From Our Streets after the Townsville show.
"There weren't even triggers on the drums and im pretty certain they had a keyboardist back stage. You could hear the odd mistake here or there. It felt like they were creating the music actually on stage! Total disrespect to the fans. Where was the album sound 'feel'??"
Performing 'Live' has a become a trend of late with many bands in the post-melodic-emo-metalcore scene, many refusing to bother to add  pre recorded tracks to their shows and instead trusting to 'musicianship'.
The Brisbane 5-piece (2-piece) are no strangers to being attacked. Recently the group was in a veiled twitter message by The Wiggles when the group lost the Best Children's Album Award to the Amity Affliction at the 2016 ARIA awards.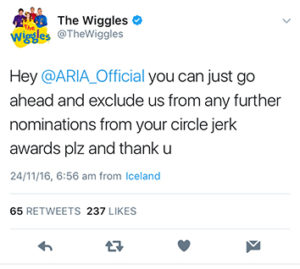 Hey @ARIA_Official you can just go ahead and exclude us from any further nominations from your circle jerk awards plz and thank u
@TheWiggles
The Wiggles rant was widely seen as sour grapes after losing to the Amity Affliction and its unclear if the groups have spoken since.